Printing information
Exhibitor
Verein Südtiroler Geschichte/Bozen
Chairman
Roland Lang
Laubengasse 9
39100 Bozen
Exhibition design
DP-art Gmbh
Albeins/Brixen
www.dp-art.net
Graphic design
effekt! GmbH
Neumarkt an der Etsch
www.effekt.it
Exhibition curators
Dr. Hubert Speckner and
Sylvia Speckner. M.A. (Vienna)
Translation from the German language
Studio Traduc, Bozen
Exhibition committee Chairs
Provincial MP (ret.) Dr. Bruno Hosp/Klobenstein
Provincial MP (ret.) Dr. Eva Klotz/Bozen
Provincial MP (ret.) Dr. Franz Pahl/Welsberg-Taisten
Exhibition Committee Members
Dr. Helmut Golowitsch
Altenberg bei Linz
Prof. Dr. med. Erhard Hartung
Innsbruck and Meerbusch (Germany)
Christoph Mitterhofer
Meran
Dr. Herlinde and Mag. Klaudius Molling
Innsbruck
Efrem Oberlechner
Olang
Prof. Dr. Dr. h.c. Reinhard Olt
Vienna
Dept. Head (ret.) Dr. Othmar Parteli
Jenesien
P. Prof. Mag. Reinald Romaner OFM
Bozen
Attorney-at-Law Mag. Andreas Schwaighofer
Vienna
1.1 Sepp Mitterhofer
Unterhasler farmer in Obermais/Meran
* Feb. 22, 1932 + Nov. 21, 2021
A leading member of the Liberation Committee of South Tyrol (BAS), Chairman of the South Tyrolean Heritage Association (SHB) from 1990 to 2011, and initiator of this exhibition.
After the "Night of Flames" in 1961, Sepp Mitterhofer was imprisoned and subjected to merciless torture. At the First Milan Trial of 1964, he was sentenced to twelve years imprisonment, serving almost eight years behind bars.
The verdict encompassed several different crimes:
Possession of explosives – 8 months;
An attack on railroad transportation security (two cases) – 2 years and 4 months;
An attack on electrical stations (several cases) – 1 year and 6 months;
An attack on the Constitution – 5 years and 4 months;
Political conspiracy – 1 year and 4 months;
A serious case of property damage – 9 months.
The District Attorney had demanded a total of 16 years and 4 months of imprisonment.
After the incarceration of Sepp Mitterhofer, ownership of the family farmstead, the Unterhaslerhof in Obermais, had to be transferred to his eldest son in order to prevent it from being seized by the Italian state.
Sepp Mitterhofer devoted his life to the freedom of South Tyrol and the reunification of Tyrol.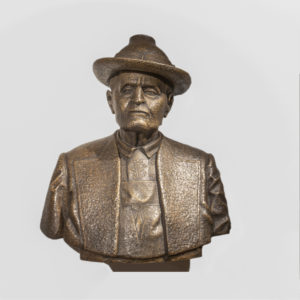 Bronze bust by Michael Burger